Looking for an office and admin recruitment agency to find the right kind of employees for your business? Then YoungCapital is the one for you. We have dedicated recruiters who are pros at recruiting office and admin staffing, and they're ready to get to work for you. Between our broad network of job boards, expansive database of talent, and speedy tech solutions, you'll have an applicant before you know it. And, whether you're looking for permanent staff or temp workers, you know you'll get a quality match thanks to our extensive pre-screening of candidates. Speed, efficiency, and quality all in one office recruitment agency? Sounds like a win-win.
Need to hire admin staff fast? Give us a call on 0203 743 0081 .
Why use our admin recruitment agency services
Wide variety of contracts to accommodate permanent and temporary workers
Services tailored to office and admin staff recruitment
Speedy solutions thanks to an extensive selection of pre-screened talent
Capable, qualified candidates who will bring a fresh, digital outlook to your business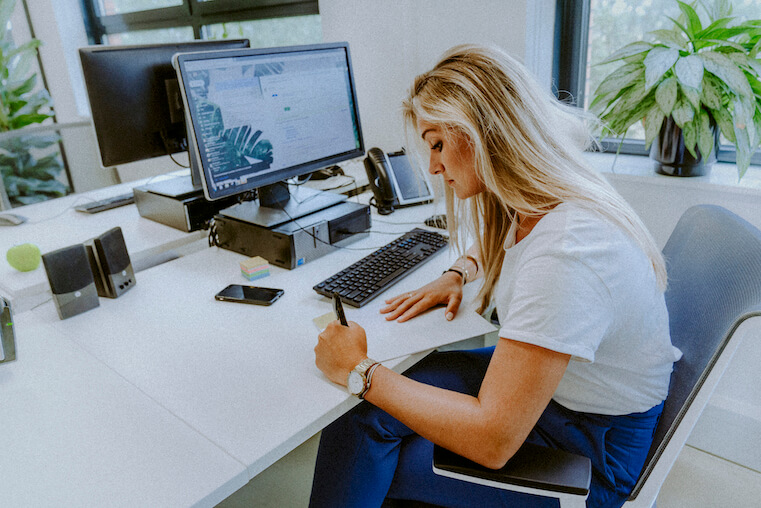 Hiring office staff has never been easier
We've cracked the code when it comes to combining old and new to get the best possible result. We rely on tried-and-tested techniques, paired with our new-age tech approach, to make us one of the top administration recruitment agencies going. Our team uses algorithms and AI to quickly and easily sort through millions of pre-screened candidates, and find the best match for your vacancy. When you work with our office and admin recruitment agency, you'll get quick and efficient solutions, without ever sacrificing on quality. What more could you ask for?
Office recruitment to complete your team
Thanks to one-on-one chats and thorough screening, our admin recruitment specialists know our talent inside and out. From skills they have, to qualifications they've earned, and generally what they bring to the table. Getting to know candidates ahead of time means we can present you with quality matches asap, making long wait times and high costs a thing of the past. You can rest assured that our admin recruitment agency will provide you with recruitment and selection while following our three Qs: quality and quantity, quickly.
An admin temp agency that sticks around
When you opt to use our temp services to recruit office staff, you don't just get run-of-the-mill office staffing solutions. We'll find you an ideal candidate who'll meet your needs, and stay on to look after all the employment-related admin. That's right, we'll take care of their contract, payslips, and all that time-consuming paperwork, so you can focus your attention on what's best for your business. Our admin recruitment agency will also cover any unexpected costs, like if the candidate falls ill. You'll get all the benefits of our efficient temp recruitment, and we'll shoulder all the risk; that's how sure we are that we can find you a great fit.
Roles we can fill as an admin staffing agency
Business administrators
Receptionists
Office managers
Executive assistants
Customer service agents
Operations managers
FAQs about our admin and office recruitment services:
What office and admin staffing solutions does YoungCapital offer?

As part of our admin recruitment agency's services, we cater for both permanent staff and temporary worker needs. We have an extensive database of talent that's been thoroughly pre-screened, meaning we can find suitable matches instantaneously.

What resources does YoungCapital have to attract suitable admin workers?

We're active on over 30 high-ranking platforms, meaning your vacancies will shoot to the top of Google's search results. We also regularly produce purposeful marketing campaigns based on a wealth of industry knowledge. All of this allows us to target the newest generation of workers who are equipped to fill your vacancy.

Is the administrative staff you provide eligible to work in the UK?

Absolutely. All of our applicants are eligible to work in the UK. That goes for our admin and office candidates, as well as the rest of our database of talent.

How soon can YoungCapital find me admin and office staff?

Generally speaking, we can present you with a suitable candidate within 24 hours of you giving us the all-clear. But, it does depend on what exactly you need from us. To get a more accurate timeline, get in touch with our admin recruitment agency team and discuss the details with them.
ycuk-recruitment-agency-testimonials
DHL Parcel

'YoungCapital is our partner when it comes to quickly scaling up our delivery capacity during the holidays. This year, despite the tight market, they have proven themselves as the specialists.'

Ellard Bouwmeester, HR Business Partner DHL Parcel

HelloFresh

"From the start, the collaboration with YoungCapital has been very smooth and pleasant. A strong partner who is able to adapt like no other to our vision, wishes, and processes. They understand the value of the quality of the temps to HelloFresh. They are very knowledgeable in finding the right staff, customer-oriented and their involvement is high."

Olaf Vreeburg, Head of operations HelloFresh UK

Aegon

YoungCapital is doing a wonderful job delivering the right candidates for our company. Over 90% of the candidates sent to us start their career at Aegon. After some time, we're able to offer them a permanent position.

Manager contact services, Aegon

Rabobank

I gave you the opportunity, because in my opinion YoungCapital is the organization that can provide us with a continuous influx of this type of profile. It is great to see that you have grasped the opportunity and that you have exceeded our expectations.

Janine Vos, MT Rabobank

Teleperformance

Thanks to YoungCapital we're able to fill our open job positions. They understand our needs and get the job done, YoungCapital style! We would highly recommend this company based on the quality and volume they delivered to us throughout the years.

Operations Manager, Teleperformance
Contact us
In need of reinforcement? Let us know what you're looking for and we'll make you a tailor-made proposal. Would you rather speak to someone directly? 0203 743 0081.